Sometimes you just need to make Blackberry Cobbler.  If someone you love requests a cobbler, that makes it even better.  The anticipation in the household of eating it is wonderful. The best cobbler begins early in the morning with picking the blackberries and hopefully there are helpers tagging along.  This is an important step because the love that goes into the dessert cannot be denied when you (and your helpers) have taken the time to hand-pick the berries!  Then, once back in the kitchen, everyone usually marvels at how many berries you picked.  The transformation process begins when the person in charge of the kitchen starts giving directions.  Turning blackberries into cobbler is an art form.  No two are ever identical.  Berries are different and if you are like me, you mix it until it "looks right", which can be challenging to explain.   Different tastes appreciate different types of this dessert and there are several ways to achieve a great cobbler.  Some have a pie crust on top or in a lattice pattern or even mixed in.  Some have a biscuit type dough that is dolloped on top of the berries and baked in.  Some have batter on the bottom and berries on top, which eventually mix and bake together.  No matter what type you prefer, it's usually delicious… and if not, then a little ice cream usually fixes any shortcomings.  Here is the recipe that I use, but I usually double it:
Blackberry Cobbler Recipe
In an 8 inch square baking dish, mix:

3 cups fresh blackberries

3 tablespoons white sugar

1/3 cup orange juice

1/4 teaspoon cinnamon

…set this aside for now.

In a bowl, combine:

2/3 cup all-purpose flour

1/4 teaspoon baking powder

1 pinch salt

1 teaspoon cinnamon

In another bowl, mix together:

1/2 cup butter, softened

1/2 cup white sugar

1 egg

1/2 teaspoon vanilla extract

Then mix the dry ingredients into the wet ingredients.  Drop this batter by rounded tablespoons on top of the berries that are already in your baking dish.  Bake in preheated 375 degree oven for 35 to 40 minutes, or until the topping is golden brown.  (I usually double this recipe.)  This is adapted from a blueberry cobbler recipe on 

allrecipes.com

.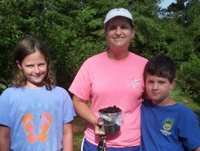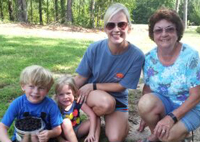 Blackberry season is closed, but these wonderfully smart folks were able to squeeze in and pick berries before they were gone.  One person told us of a friend who just returned from Afghanistan.  This friend mentioned that during their deployment, they kept thinking about blackberry cobbler.  Of course she had to make him one and include the extra effort by hand picking the berries.  Love was definitely one of the ingredients in that cobbler!  What a great welcome home gift.
We are already busy pruning the plants and preparing for next season.  You should make a list of fun summer activities to remember and put RabbitEye Farm on it.  You'll be glad you made a list right around the end of May 2016.  I'll bet you will have some eager helpers when you mention "cobbler"!
Blackberry season starts right around the beginning of June and goes through the beginning of July, but it all depends on when Mother Nature thinks the time is right.  We'll keep you posted.