RabbitEye Farm first pick of the 2016 season on
Sunday June 5th.
From 6AM to 10AM and again from 5PM to 9PM.
It's difficult to predict exactly when enough blueberries, blackberries and an occasional red raspberry will be ripe but this is a pretty good guess. We took these photos today (Memorial Day).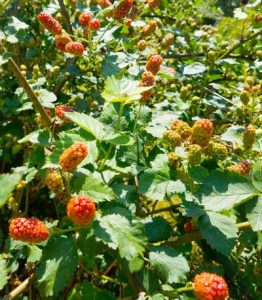 About a week ago
We have lots of berries in all stages of becoming ripe.  Here is an amazing sight of how the blackberry and blueberry bushes looked about a week and a half ago.
Pick early or pick late this berry season.  We are taking advantage of the early cool breezes of the day and evening shade by being open in the early morning and the late evening.  Our regular picking days will be on Sundays and on Thursdays with these same hours.
We are limiting the picks to 2 days a week to make sure the bushes have renewed the berries enough for a good experience.  Extra pick days may be added according to how things measure up and, of course, Mother Nature's decision on when to provide rain.  We will keep you posted here on this website and also on our Facebook Page.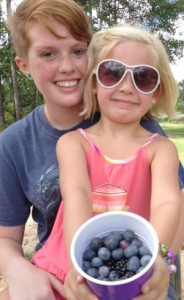 We use no pesticides and grow our berries with only sustainable organic practices.  We eat them right off the vine and we encourage you to taste the subtle differences between the varieties.  Let us know which berry and which variety you like the best.  Our blackberries have no thorns and little ones as well as adults can reach both the blackberries and the blueberries easily. We hope you come out this berry season and taste the summertime in our blackberries and blueberries!
"They're sweet and tasty!"
(yes, that is a direct quote from this happy customer)