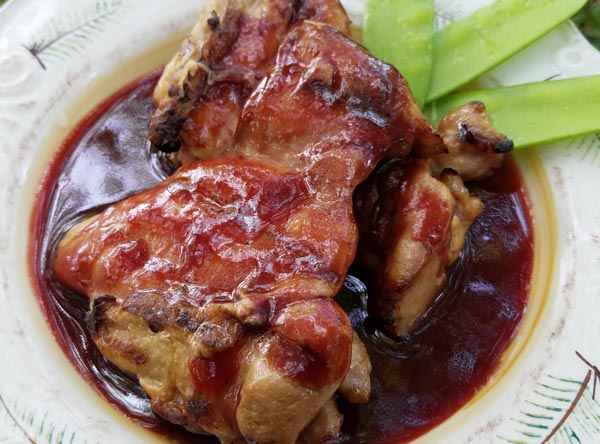 Wouldn't you like to try Blackberry/Chipolte BBQ Sauce? I made it here with grilled chicken but this can be used in lots of ways. It's a great thing to do with extra blackberries. The blackberries give it a tremendously rich vibrant color.  I'm calling it a formal rustic sauce because it is so beautiful, that the ease in which its made and the smoky flavor it packs is a total surprise.  Along with being delicious and beautiful, this is a way you can use the overly juicy or somewhat squished berries in something other than jelly. It's also adjustable. Once it's cooked down a bit, taste it. You can add more chipotle if it isn't spicy enough or you can add more sugar if you like it sweeter.
Ingredients:
A bowl full of Blackberries – I used around 9 ounces, but you can see it is basically a cereal bowl full.  Don't critically measure because it isn't necessary.
1/2 Cup of Brown Sugar
1/2 Cup of Apple Cider Vinegar
1 Cup Ketchup
2 Tablespoons Worchestershire Sauce
2 teaspoons liquid smoke – Mesquite
1Tablespoon Smoked Paprika
1 or 2 Chipolte Peppers and some of the sauce from the can (you can add more once it melds together and you taste it)  You can see the brand I used in the photo, but that is not critical.  Homegrown peppers are best of course.
Directions: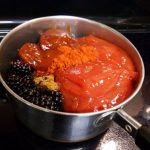 Combine everything in a saucepan and slowly bring to a simmer while stirring often.  Once the berries have a chance to cook a little mash them into the sauce with a potato masher to release all of their juice.  Continue to simmer about 10 minutes.  The sauce will be a vibrant dark wine color and the sauce will coat the back of a spoon easily.  Get a clean spoon, dip it in and cool your sample enough to taste it.  If you think the sauce needs more spice add it at this point and cook another 5 minutes.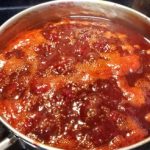 Here is a photo of what it looks like while it is bubbling.  I skimmed off the light colored bubbles and discarded them just like you would do if you were making tomato sauce.
Once you are happy with the taste, you need to carefully pour it through one of those wire mesh strainers into a bowl.  Use a strainer that is about 6 inches in diameter because a really small one won't do.  Use a bowl that is larger than the strainer.  The purpose is to strain out all the seeds and pepper skins.  I ended up with about 1/2 of a cup of seeds and skins.  Use a large spoon and gently move the seeds around in the strainer to get the maximum amount of sauce into your bowl.
Voila!  That's all there is to it.  I separated out some to use as a brush on glaze on the grill.  Afterwards, I poured more of the sauce on straight – it was that good.