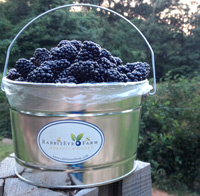 Our blackberries are thornless giants!  They grow on trellis' and are a dream to pick. Our first blackberry picking season, which was in 2015, was phenomenal and it has gotten better each year. Many have commented that our berries are the largest they have ever seen.  One variety that we grow are so large, even we are amazed.  Berries as large as your thumb.  It is something you may need to see to believe.  Our other varieties are also impressive and have subtle differences in their characteristics.  We invite you to taste them all.
A Healthy Diet
Blackberries have one of the highest antioxidant levels of all fruits and picking fresh berries insures that you get the maximum benefit.  Its important to incorporate berries into your healthy diet for many reasons.  They are high in vitamin K and may reduce your risk of heart problems.  Blackberries are low in calories and high in fiber and rich in nutrients.  They have also been studied for their positive impact on cognitive and motor skills as well as their performance for increasing short term memory.  Blackberries are delicious.  We eat ours right off the plant as we do not use pesticides.  All of our fruit is grown with organic practices.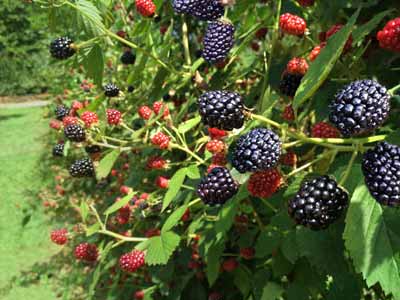 This photo shows the ripening process on one of our rows.  The vines were continuously covered with berries for about 4 weeks. Picking was easy and fun.  Of course the berries are in the sun but shade is readily available just a few steps away.  Parking is also really close to the berry patch.
These blackberries, as well as other things on our farm, are grown with many permaculture practices applied.  Incorporating permaculture is a design mindset utilizing natural occurring elements, such as red clay soil, and having it work for you in a positive way rather than working against.  Much thought has gone into where on the property and in what direction the rows are situated. Natural sustainability is used rather than fertilizers to make the plants as self sufficient as possible.  These berries are also grown using terraces that direct rainwater back toward the plant.
Here is an early 2014 photo of our blackberry trellises as we were just beginning to train them.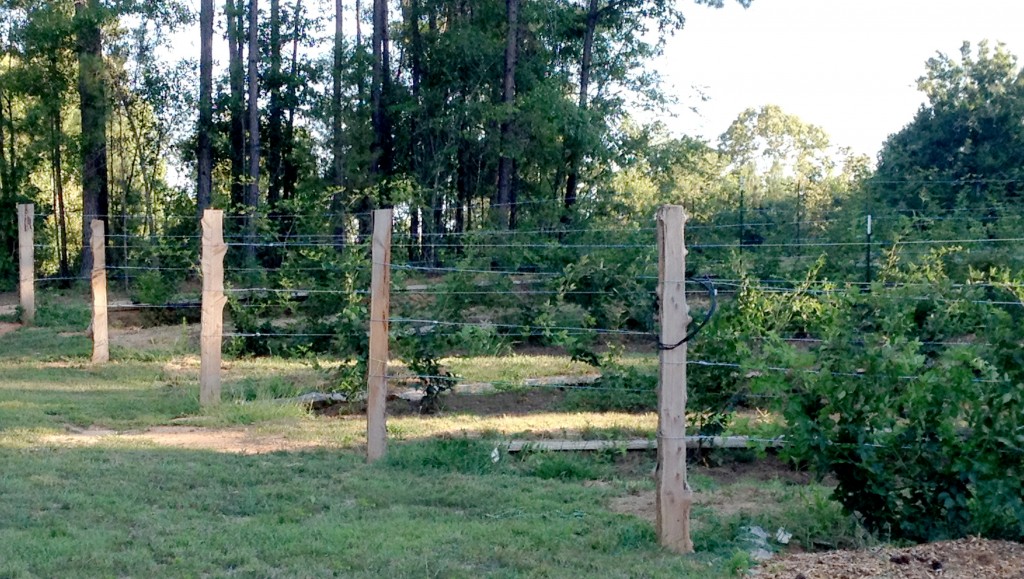 This is a photo taken April 13, 2015 when the first row of blackberries began to bloom.