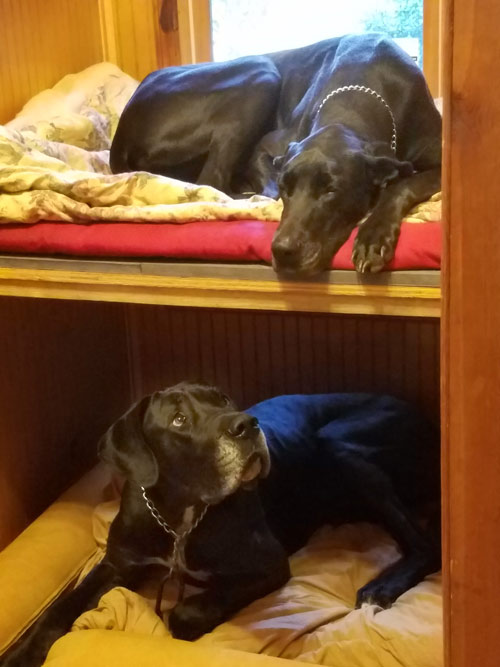 What do you do with multiple dogs and limited floor space?  You build doggie bunk beds!  Great Danes require rather large beds and fortunately, we have a foyer that is just the right size for this.
The bed is very sturdy and the whole thing is easily removable. We can take it down, sweep, and put it back together in no time.  It is built with ledgers on both sides and has sturdy slats just like a regular bed, then has 3/4 inch plywood on top of that.  For the padding we have 1 inch padded exercise flooring cut to size.  It is gray in the photo.
You may remember LilBit, our Great Dane, who has mega esophagus. (You can read more about her HERE.) She is three years old now, doing fine, and that is her in the top bunk. Diesel is her brother in the bottom bunk, and they are both loving this new setup.  We had a step so she could more easily hop up to the top.  It doubled as their food storage container, but she doesn't use the step.
So far, so good with this idea.  As long as they don't fight over who gets the top bunk, I think it will all be fine.