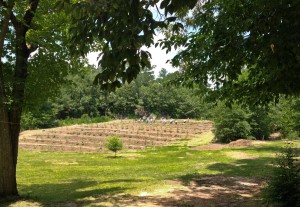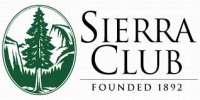 This past weekend, we welcomed the Sierra Club to come and tour our farm.  There were about 17 people who attended and luckily the weather cooperated.  The skies were clear after weeks of predictable rain.  The terraces were still wet, but that didn't deter anyone.  The group first picked blackberries, then raspberries and then blueberries.  We talked about terraces, trellising, hugelculture, permaculture, aquaponics, no-till gardening and lots of other things.  The group was very attentive even though it was really hot and they had all been to two other farms before ours.  Everyone was so encouraging and helpful with suggested possibilities… (our world here on the farm is filled with possibilities).  Once the tour was finished, we sat down in the shade at the picnic table and everyone was given a taste of freshly extracted honey to take home with them.  Here are some pictures of the group as they arrived and were able to pick some berries from our very young plants. This particular area is all blueberries and you can see the terraces.  I had to really zoom to see them from where I was, but they saw me and all waved.  It was a good day.
UPDATE:  We received this great note from Joanna Baxter, who organized the Sierra Club Organic Farms Outing:
Wow! You & Katie gave a 5 Star ending to the Sierra Club Organic Gardens Outing today. Really! Doug, your knowledge research base you presented was so well studied and based and came across that way in your presenting of it to us.  You definitely knew what you were talking about and you lit the flame in all present to get excited and go forward in personal gardening pursuits and follow yours – we can't wait for the pick-your-own time! I read just yesterday a quote I copied for reference and came out in a statement that you made today – Plutarch – Greek philosopher -quote: " the mind is a flame to be kindled, not a vessel to be filled." All your study and frame of reference is being designed to kindle the flame in others. And, I have no doubt that this is the end to which you will see.  You and Katie have a wonderful developing farm and adventure that you are willing to share together and this is VERY SPECIAL.

Thank you so much for letting us be a part of your life today and for the gift of your honey as well.