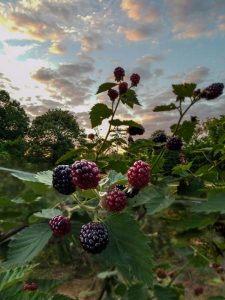 There are berries, but only one or two more berry picking days left. If you definitely want to pick berries one more time this summer, you should come on Thursday, June 30th. Early pick 6AM – 10AM and late pick 5PM – 9PM.  Check this website because depending on the number of berries, we MAY pick on July 3rd but that is not guaranteed.
Near and Far
We have a new winner for the farthest traveler to pick our berries!  The previous record holder was from Chicago, Illinois in 2015.  This year that record has been broken with these lovely folks who travelled back here all the way from California!  Near or far, health-minded individuals spend their time wisely here picking fresh berries grown with organic practices.  These berries are grown slowly and with no push from fertilizers.  Our honey is also produced slowly and with the bees' best interest at heart.  We have been very fortunate this Spring to be able to offer honey for sale.  If you are wanting to try honey to offset allergies, you must purchase honey from a local beekeeper.  It has to be honey from hives that are within 20 miles or so of where you live and closer is even better.  If you are just looking for pure honey that tastes good, distance is not a factor, but you still need to go to the source, and buy from a beekeeper.
The Right Stuff
What do you need to pick berries?  Well, you don't really "need" anything special to pick here since we provide the bucket and the liner to tote the berries home.  What is nice to have is a hat.  It's not just for mid-day.  No matter what time of day, in Georgia, it's a lot cooler in the shade.  A hat allows you to take your own shade with you as you walk and allows you to keep your hands free for picking.  Plus, they look great.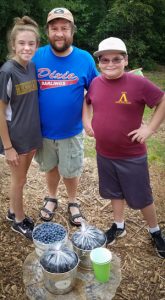 What else is nice to have?  Helpers!  Look at the ton of berries you can pick in no time with a little help? Being a good helper means you get more berries, you learn where food comes from and you spend time outdoors. Family or friend, good helpers are made of the "right stuff."