Blackberry Lavender Granita is a great summertime treat.  Infuse the wonderful aroma of Lavender with tart sweet blackberry juice in this dessert and everyone will be impressed.
It's the first of August, and the Lavender has caught my attention.  It's blooming now.  This plant has beautiful dainty purple flowers, but the entire plant has a soothing perfume to it that it is used widely in lotions and baby oils.  It is also used in cooking.  You may have heard of "herb de provence" which is a French herb combination.   Lavender is not easy to grow here in humid Georgia, but it is a wonderful plant none the less.
You can use fresh or frozen blackberries in this recipe because we are only using the juice.  I was more than a little surprised at how well this turned out because it was so simple.  If you have never had Granita, it is a little like a snow cone consistency, but is packed with flavor.  A little goes a long way.  It ends up being rather fluffy, so this amount made dessert for 5 people.
Ingredients:
Blackberry juice, Sugar, Lavender
Directions:
You will need 2 cups of blackberry juice.  I made mine by taking about 2 and a half cups of fresh berries, combined with about 3/4 cup of water and boiled and mashed the berries until there was a good amount of juice.  (You can use frozen berries to make this juice just as easily)  Then I strained my berries that I boiled through a wire mesh strainer to get only the juice.  With my 2 cups of juice in a pot, I added 1/2 cup of sugar and a large sprig of fresh lavender leaves.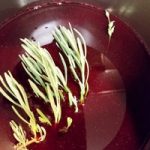 Here is a photo of how big a "sprig" is to me.  I brought this combination to a boil while mixing and then took it off the heat and let it steep with the lid on for about 3 minutes.  Then, I removed the lavender and poured the hot juice mixture into a casserole dish.  I let this sit on the counter and cool down before putting it in the freezer.  Once you feel the dish is cool enough, put it in the freezer and set a timer for 30 minutes, at which time you need to scratch it all up with a fork and mix in the edges.  Put it back in the freezer and set the timer for another 30 minutes at which time you will repeat scratching it up with a fork.  I did this a total of four times.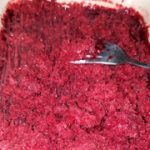 Here is a picture of what I mean by scratching it up with a fork.  After I was satisfied that it was frozen and mixed enough, I left it in the freezer all night and all the next day until dinner.  Then, with a little more effort, I scratched it up one last time and served it immediately.  I'm showing it with a small fresh lavender sprig as a garnish in the first photo, but that's just to make it pretty and not to actually eat.  If you chill your dessert cups before you scoop in the granita, that would be even better to keep it from melting too soon.  Eat with a spoon.
That's it!  A super easy, inexpensive, beautiful, delicious dessert made from farm picked organic blackberries and fresh lavender.  It's an unexpectedly terrific combination.  Try it, and also create your own new flavors.  I have frozen blueberries, so I may try this using blueberry juice… and infuse it with Rosemary!   Make up your own combinations and enjoy.