June is Berry Picking Month!
Berry Season is right on schedule in 2017 for the whole month of June and we are open for picking Thursday's and Sunday's beginning June 1st. Our schedule (and prices) are the exactly same as last year.
** THURSDAYS and SUNDAYS in June **
MORNING pick from 6AM-10AM 
EVENING pick from 5PM-9PM
We provide a bucket with a plastic liner for you to pick into, then you keep the clear liner to conveniently carry your berries home. You can pick blueberries, blackberries and you may also find some red raspberries.
Large Bucket is $15, Small Bucket is $7
Here is a photo of what the large bucket looks like when you lift out the liner.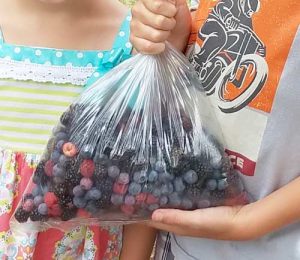 Let the summer activities begin!
Feasting on fresh Blueberries and Blackberries is a part of summer fun and picking them yourself makes them the freshest berries possible. Our blueberries are ripening slightly ahead of the blackberries, but both will be ready Thursday, June 1st. This "May rain" will insure they are plump and juicy and ready for you.
We grow our berries with organic practices on grassy terraces, so they have no pesticides and are easy to pick.  The blueberry bushes are a little taller than last year, but are still easy for all sizes to reach. We suspect some of you are taller too!  We look forward to seeing you. Our blackberries are also thornless so they are easier to pick than wild ones.
Parking is plentiful – shade is readily available as well as restroom facilities.  Plan ahead for FATHER'S DAY (Sunday, June 18th) – Berry picking makes a great "kid-led" activity.