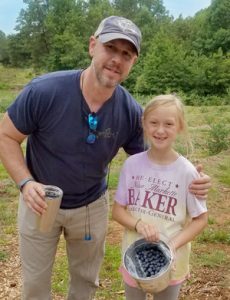 Sunday's berry picking was a great way to celebrate Dad. These two found a lot of berries together.  Some brought Dad for a special outing and others picked berries and made special desserts. Nothing says "love" to your family like a homemade dessert especially when you spent your time picking the berries fresh!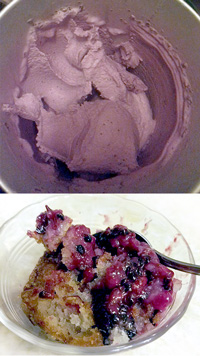 Here are two photos of desserts submitted by customers.  Blueberry Ice Cream and Blackberry Cobbler.  Both look so yummy!  These photos are inspiring, thank you, Brittany and Sara, for sending them.
The weather on Sunday was absolutely beautiful.  It was breezy, with low humidity and temperatures in the 80's!  After Thursday's rain and hail storm, this totally made up for it.  Yes, this was a very unique and special way to spend time with family.  No one was in a hurry, which was great.  Plus, having a kid-led activity went over big with the Dads.  One Dad actually said it was the "Best Father's Day ever!"  Oh, and once they were done picking berries, they still got to go home and enjoy eating them!
NOTE:
Our next pick is Thursday June 23rd and WE HAVE A LARGE GROUP SCHEDULED.  The Senior Center in LaGrange is having a berry picking trip here Thursday morning.  Please check this website or our facebook page before you come on Thursday to make sure enough berries are left.  By Sunday June 26th, loads more will be ripe.
Here is a slideshow of a few happy Dads